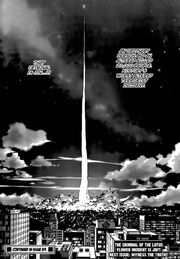 The Lotus Flower Incident is the most famous Altered terrorist attack that has occurred to date. Because of this incident the government sought out to create Island D. The incident was supposedly caused by Jin Kazaragi. It was named the Lotus Flower Incident because it occurred within Lotus Flower City.
A total of 45,000 people, both altered and normal, were affected by this incident. 37,000 people were injured and 8,000 were killed. Also, 10% of these people where altered.
Significant Deaths
Edit
Shun Isobe's Sister
Ad blocker interference detected!
Wikia is a free-to-use site that makes money from advertising. We have a modified experience for viewers using ad blockers

Wikia is not accessible if you've made further modifications. Remove the custom ad blocker rule(s) and the page will load as expected.